We're honored to announce that SentinelOne has been awarded a Top Workplaces 2020 award by The Oregonian. When we opened our Eugene office in the Spring of 2018, our goal was to not only increase support for our rapidly growing customer base but also to strengthen the area's flourishing technology scene and provide rewarding career opportunities for its wealth of local talent.
Garnering accolades such as the Top Workplaces honor brings us tremendous satisfaction that we are accomplishing these goals!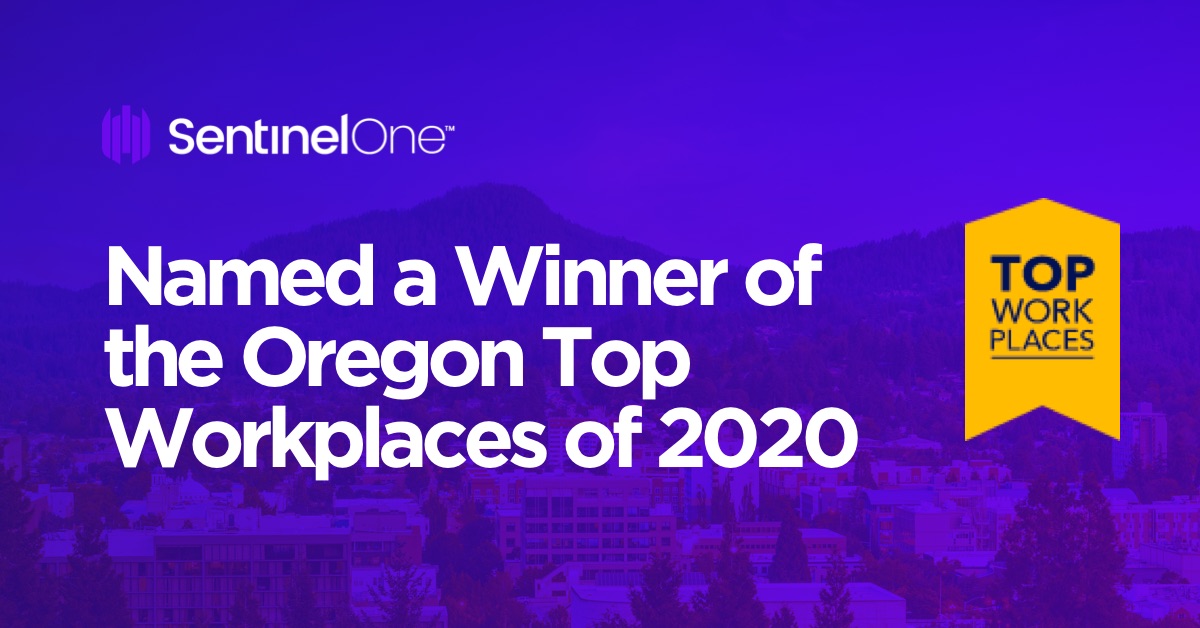 The Top Workplaces list is based solely on employee feedback gathered through a third-party survey administered by employee engagement technology provider Energage, LLC. The anonymous survey uniquely measures 15 drivers of engaged cultures that are critical to the success of any organization, including alignment, execution, and connection, just to name a few.
"The Eugene-Springfield area holds some of the finest technology and security talent anywhere in the world and is a burgeoning innovation hub," said Divya Ghatak, Chief People Officer, SentinelOne. "Our team in Eugene has played an integral role these past few years in elevating SentinelOne to where it is today as a global leader in enterprise cyberdefense. It's been our mission from day one to provide an inclusive and diverse workplace environment that not only rewards employees for their tireless efforts in helping us achieve company goals, but provides opportunities for them to continually grow as both people and professionals. We want to sincerely thank all of our Eugene team members for their invaluable contributions!"
Our Eugene office has grown to more than 80 employees today, and we hold aspirations of continued growth over the next year. We've received incredible support from organizations such as The Technology Association of Oregon in establishing our home in the Silicon Shire, and look forward to strengthening active engagements with local educational institutions, including the University of Oregon, Oregon State University, and Lane Community College, for work-study internships, research, and course collaboration.
We take great pride in being named an Oregon Top 2020 Workplace and are proud of creating an environment where our team is fulfilled, engaged, and growing. SentinelOne's future is bright, and we're hiring. Celebrate this designation with us, and take your career to the next level with SentinelOne in Eugene, Oregon!
---
Like this article? Follow us on LinkedIn, Twitter, YouTube or Facebook to see the content we post.
Read more about Cyber Security
https://phxtechsol.com/wp-content/uploads/2020/09/S1_TopWorkplace_lilnkedIn_Post-Copy.jpg
628
1200
Phoenix Technology
https://phxtechsol.com/wp-content/uploads/2017/02/PTS-Horiz-logo-1-1200-300x53.jpg
Phoenix Technology
2020-09-30 02:51:19
2020-09-30 02:51:23
SentinelOne Named a Winner of the Oregon Top Workplaces 2020 Award